iQ-Check™ Prep System
iQ-Check™ Prep Solution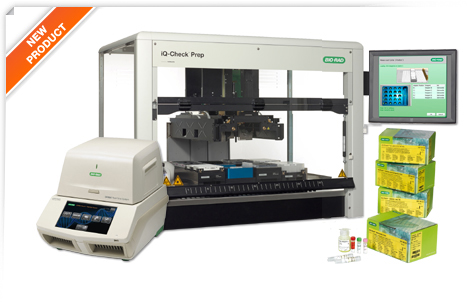 The iQ-Check™ Prep is a liquid handling platform performing DNA extraction and PCR plate set-up. Designed for use with the full range of iQ-Check food pathogen detection kits and the CFX96 Deep Well™ real-time PCR system, it provides a completely integrated automated solution for food pathogen testing. Optimal ease of use and full traceability is achieved by the link between the CFX Manager™ IDE Software and a laboratory information management system (LIMS).
The iQ-Check Prep Solution provides increased confidence in results, high reproducibility and robustness to routine testing labs. It fits seamlessly in laboratory workflow without disrupting it and is an ideal solution for medium to high throughput testing laboratories.
iQ-Check-Prep Brochure dokuments 2000kb
iQ-Check-Prep Quick_Guide dokuments 1400kb
Key Benefits
Walk-away automation



Fully automated DNA extraction and PCR set-up
Fully automated detection and data analysis
Greater flexibility



Run up to 4 different iQ-Check assays simultaneously
Perform up to 500 tests in a 8 hour shift
Reallocate lab resources to perform other tasks
Greater confidence and efficiency



Improve traceability with barcodes and LIMS integration
Real time monitoring of each pipette step and liquid level
Internationally validated protocols
Designed to make your work easier



Ready-to-use, load and go reagents
Intuitive and integrated user interface
Robustness and simplicity for limited maintenance
AFNOR Certification extension on the following iQ-Check methods:
iQ-Check Cronobacter spp. Kit
iQ-Check E.coli O157:H7 Kit
iQ-Check Listeria spp. Kit
iQ-Check Listeria monocytogenes II Kit
iQ-Check Salmonella II Kit
AOAC and Health Canada extension pending.
iQ-Check Prep System Specifications

Instrument Dimensions


Width: 1124 mm / 44.25 in; Height: 903 mm / 35.55 in ; Depth: 795 mm / 31.3 in


Work Area Dimensions


Width: 675 mm / 26.57 in ; Height: 195 mm / 7.68 in; Depth: 465 mm / 18.31 in


Weight


120 kg / 322 lbs


Positional Accuracy


X-Y-Z positional accuracy of 0.1mm


Tip Sizes


low volume: 50μl
high volume: 1000μl


Pipetting Specifications for
Disposable Tips

individual 1000μl pipetting
channels


Disposable Tip Size


Volume


Trueness R


Precision CV


50 μl


0,5 μl


10%


6%


50 μl


1 μl


5%


4%


50 μl


5 μl


2,50%


1,50%


50 μl


50 μl


2%


0,75%


1000 μl


100 μl


2%


0,75%


1000 μl


1000 μl


1%


0,75%


Liquid Level Detection


Capacitive liquid level detection (cLLD) and pressure (pLLD) on aspiration, cLLD on dispense


Labware


Recommended labware from Bio-Rad


Operating Data


maximum power consumption


600 VA to 1000 VA (depending on configuration)


voltage


115 VAC/ 230 VAC


frequency


50/60 Hz + 5%


delayed action fuse

600 VA

1000 VA


115V : 6.3A (T6.3AL250)
230V : 3.15A (T3.15AL250)

115V : 10A (T10AL250)
230V : 5A (T5AL250)


Installation category


II


Pollution Degree




2


Temperature range


15°C - 35°C


Relative humidity


30% - 85% (not condensating, indoors)


Noise level


< 65 dBA (regarding EN27779)


Altitude max.


max. 2000m above sea level


Heat: the power consumed will be transferred to heat


e.g. 600 or 1000 Watts of Heat = 600 or 1000 Joules/ Second


Indoor use only


Storage and Transportation


Temperature range -25°C - +70°C
Relative humidity 10% - 90%
(not condensating, indoors)


Computer


Recommended computer from Bio-Rad


Communication


USB