ZOE™ Fluorescent Cell Imager
The ZOE Fluorescent Cell Imager eliminates the complexities of cell imaging associated with traditional microscopes. This fluorescence imaging system combines the ease of use of a personal tablet with the power of an inverted microscope.
An Android-based platform, the ZOE Cell Imager uses an intuitive touch-screen interface to control the brightfield, three fluorescence channels, and the integrated digital camera.
The ZOE Fluorescent Cell Imager is a complete digital imaging system, allowing users to view samples, capture and store images, and create multicolor overlays. Thanks to the built-in light shield, the ZOE Cell Imager does not require a darkroom for fluorescence imaging.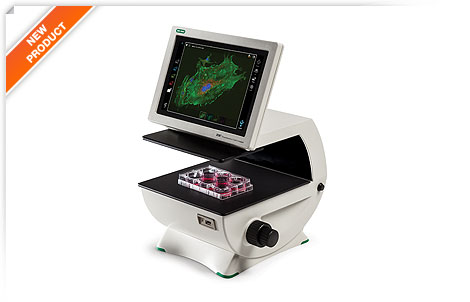 Features and Benefits of the ZOE Fluorescent Cell Imager
Simplified cell imaging — the intuitive touch-screen interface allows users to view cells, capture images, and create multichannel merges with minimal training
Flexible operation — brightfield and three fluorescence channels enable use for routine cell culture applications and more sophisticated imaging applications
Fluorescence imaging at your bench — light shield permits fluorescence imaging in ambient light
Robust construction — fully integrated system with long-life LEDs, ready for intensive daily use
LED light sources — thousands of hours of illumination that are instantly ready after power-on
Large viewing area — the motorized stage and wide field of view allow you to see more of your sample, faster
Small footprint — compact size accommodates crowded lab benches
Applications of the ZOE Fluorescent Cell Imager
Use the ZOE Cell Imager to check/screen samples prior to high-content analysis (HCA), high-throughput screening (HCS), confocal imaging, or fluorescence-activated cell sorting (FACS). With a brightfield and three fluorescent channels, the ZOE Cell Imager has all the features needed for daily cell culture work as well as fluorescent applications:
Visual estimation of cell confluency
Observation of general cell health and morphology
Cell growth and proliferation monitoring
Capturing cell images (with or without fluorescent labels)
Visualization of expressed fluorescent proteins
Immunofluorescent protein localization
Estimation of transfection efficiency
Illumination Light Sources
Blue channel uses a UV LED
Green channel uses a blue LED
Red channel uses a green LED
Brightfield channel uses a ring of multiple green LEDs for reduced chromatic aberration
More information on www.bio-rad.com page.